Hiring: Community Manager
UnVale is looking for a new Community Manager! We're looking for someone deeply familiar with artists, OCs, and online communities to help keep our community members engaged, informed, and excited.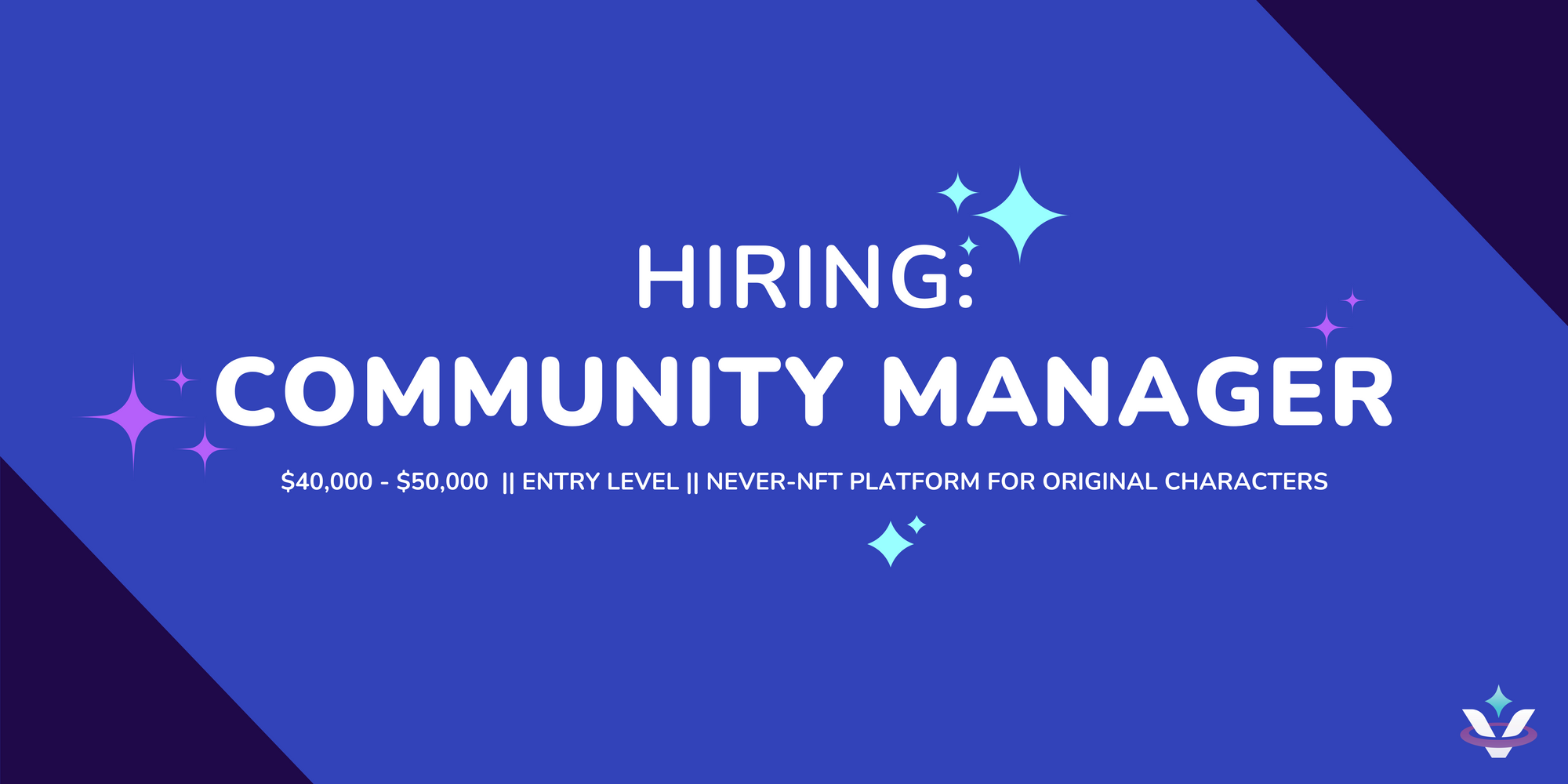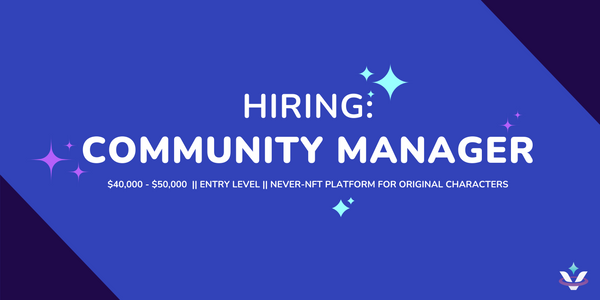 UnVale is looking for a new Community Manager! We could use someone on our team that's deeply familiar with artists, OCs, and online communities to help keep our community members engaged, informed, and excited. Please review the information below, and if you're interested in throwing your hat into the ring, please send your resume (or an equivalent summary of your experience) to jobs@unvale.io. You can also send any questions you may have to that email, too!
Job Specifics
Title: Community Manager
Compensation: $40,000 - $50,000
Type: Full-time
Location: Anywhere/Remote (but strong overlap with CT or PT timezones preferred)
Job Responsibilities
Keep UnVale users engaged across a variety of channels, including Discord and social media (Twitter and Instagram).
Maintain positive relationships with many of the most engaged users on our platform (our Ambassadors), making sure they are heard, their needs are being met, and we're mutually benefitting one another.
Greet new users when they join our community, letting newcomers know they're welcome on our platform.
Lead user support through Zendesk, answering questions about UnVale, the commission process, profile setup, and more.
Create helpful guide content on Zendesk, giving users a grab-and-go way to answer their top UnVale questions quickly and easily.
Pass along user feedback to our internal teams, making sure we're addressing top user complaints or concerns in a timely manner.
Write and maintain strong Community Guidelines to keep our community inclusive and safe.
Lead a team of Discord moderators to help keep our community safe and welcoming.
Assist with platform testing and trying out newly developed features.
Who We're Looking For
Someone who knows the ins and outs of the art/OC communities and has spent a good amount of time in them.
A person that's comfortable navigating online communities like Discord, social media, or even small community forums. (Bonus points if you've had a leadership role in any communities.)
A context-swapping master! Being a Community Manager requires you to oversee a variety of UnVale channels every single day; being able to manage context shifts will be important. (Don't worry, we take work-life balance very seriously here.)
Someone that's known as a strong, kind communicator, as you'll be the first hello for many of our new community members and constantly conversing on Discord, Zendesk, social media, and more.
Someone comfortable with analytics. While you don't need to be a numbers expert, we are an outcome-focused team. This means you'll need to measure the effectiveness of your work to make sure your time is spent working on the things most important to users and UnVale as a whole.
About UnVale
UnVale is the new home for your OCs! We're building an inclusive, safe platform for OC creators, owners, and digital artists. Our platform is currently in beta, and it is full of functionality for digital artists to display their portfolio, create an in-depth commission order form, receive payment for their work, and track the final delivery of their character art. We have big plans when it comes to OC functionality, so the best is yet to come! We are committed to being Never-NFT.
Additional information about UnVale:
UnVale is a small, 100% remote team that often works asynchronously and encourages flexible working hours. Having strong discipline to drive forward your own work and communicate proactively is very important!
While working at an early-stage startup can be highly rewarding, it's also risky and ever-changing. To thrive here, you will need to be able to adapt to change well.
We have a minimum vacation policy (must take at least 3 weeks of vacation per year), a Creative Outlets stipend, a Convention stipend, and we offer help with early childcare costs.
Diversity and inclusion is very important at UnVale. Underrepresented folks in tech are strongly encouraged to apply.
If you don't meet 100% of the qualifications, but you're still very interested, please reach out anyway!

If you want to learn more about our Community, our Discord server is a great place to start. Becoming familiar with the UnVale platform would be helpful, too. To apply for this position, please send a resume (or an equivalent summary of your experience and why you're a good fit for this position) to jobs@unvale.io.