Beginner's Guide to Live 2D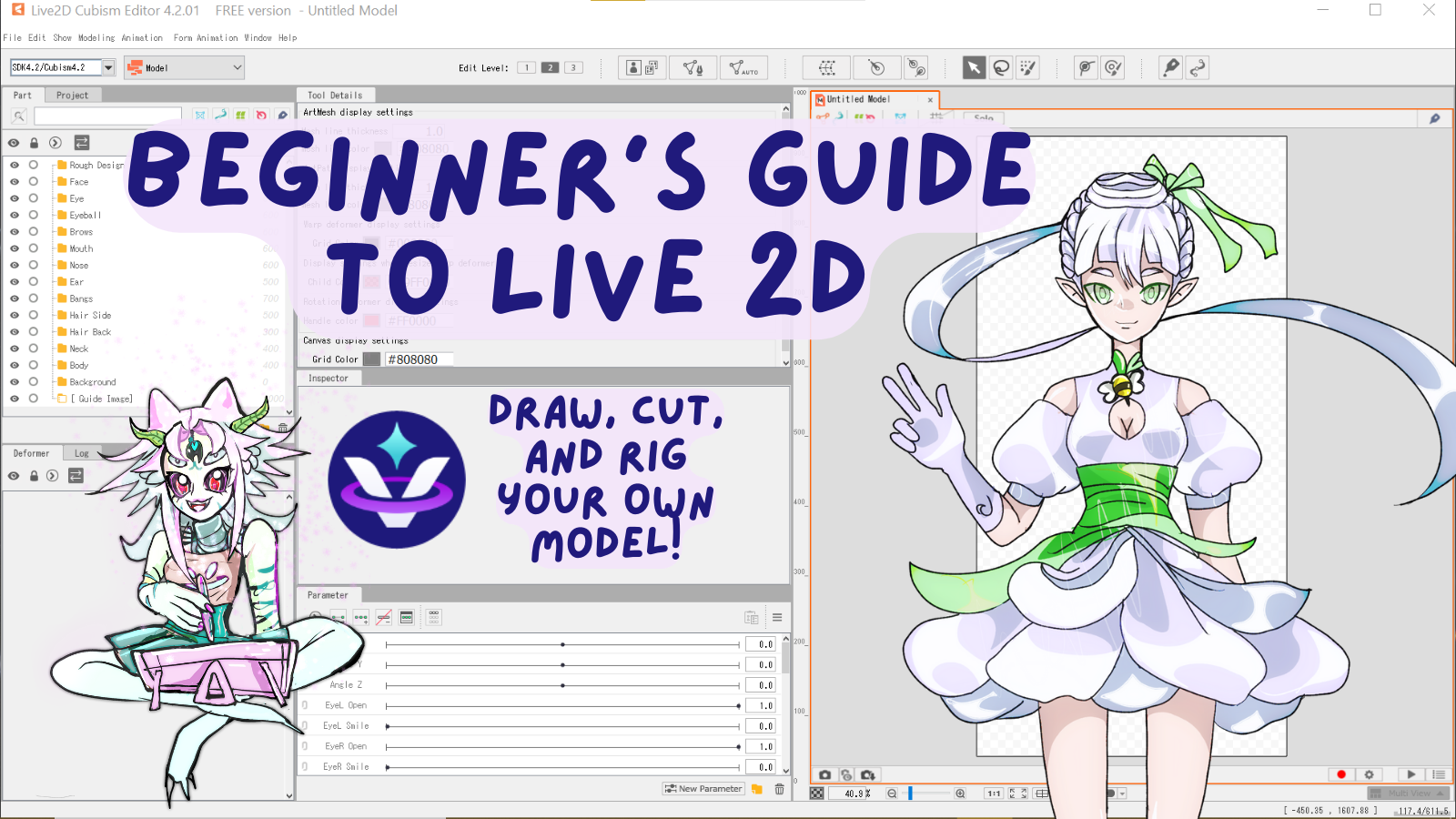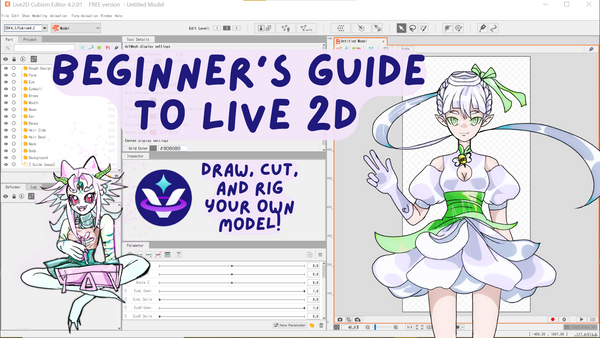 Are you interested in learning how to use Live2D but don't even know where to start? Then this is definitely the right place for you! We've compiled tons of helpful resources and tutorials so you can follow your very own 2D vtubing dreams. Whether you plan to create your own model or want to work with an artist this guide will help you learn the ins and outs of working with Live 2D.
What is Live 2D?
Live 2D Cubism is a software developed by Live2D Co., Ltd.  This software uses the principal of "stereoscopic image expression" to bring illustration to life– which basically means that it employs a process of animation that works directly off of one original image. This form of animating is different than most traditional 2D  and 3D animation techniques.
Here's an example of movement and animation in Live 2D from artist nonon_yuno so you can see what the program looks like in action.
The process of learning Live 2D can feel intimidating at first so it can be beneficial to break it down into smaller steps. You can learn how to do different parts of the process at your own pace and improve over time.
If you still need help coming up with a concept idea check out this article on creating original characters. Here are some of the most important elements to consider when creating a model with Live 2D.
Drawing your model art
Cutting, cleaning, and organizing your layers
Rigging your artwork in Live 2D
Animating your model
You can choose to develop your skills during each step of this process as you create your own model, or work closely with another artist for their expertise. You can commission someone to cut and rig your own artwork, for example, or even commission someone to create the entire thing! There are also lot's of free assets out there created by wonderful artists.
Resources for Drawing your Model
If you would like to draw your own model for use in Live 2D it will be really helpful to watch some video tutorials and look up references. When drawing for Live 2D you must eventually have separate parts for each piece of the character that will be rigged and animated. Some artists draw each piece on a new layer, some draw everything on one layer and separate it later, and some artists do a mixture of both. Here is a link to the sample Live 2D models that you can play around with before you begin.
This video by Nyxxity Art on how to draw your first vtuber model provides essential advice that is clear and easy to understand. This video will show you how to draw your model art work and teach you to plan ahead for the next steps.
This following Tweet by artist adrhaze breaks down the construction method used for a more defined face. This example is very well thought out and provides a helpful legend so that you can order your layers in the same way as the artist. Using this draw order and visual guide makes a somewhat difficult process much easier to understand.
Tips on Separating Art Work
This video series by Kira Omori is a beginner-friendly guide for anyone wanting to get into Vtubing or making vtuber models. The video below provides in-depth insight into the process and theory of separating each piece of a model's artwork. Each video in the artist's series is informative and easy to follow along with, so we definitely recommend checking them out.
Here's another really helpful tip from artist Minaowaa about drawing and separating the hair of a model. Mina advises us to sketch the shape of our hair textures first in small segments and then try lining that on a separate clipping layer.
Rigging the Model
In order for your artwork to move properly it will have to be rigged in Live2D Cubism. Rigging the model in Live 2D is a separate process from creating the art and can seem a bit confusing if you have never tried it before. Watching tutorials and looking at references will help you understand the tools of the program and the general workflow.
This video by Kappako Channel will walk you through the basic steps of rigging your Vtuber. Kappako does a wonderful job of explaining the tools of the program and their functions throughout the course of their series.
Meshes and deformations are a huge part of the rigging process in Live 2D. This beginner guide to fast meshes featured below was created by the artist YoshinoArt. This helpful tutorial will allow you to better understand the concept of meshes and how to use them for fluid animation.
Other Resources
Learning how to use Live 2D is a long and continous process. This is a relatively new medium and artists are innovating new ideas with the software all the time. Here are just a few extra resources for learning Live 2D that will hopefully help guide you through the next phases of your journey.
Here's a quick tutorial from mochimochibubu which explains how to use the deformation feature in Live2D to create alternate hairstyles for your Vtuber!
Here is a huge repository full of tons of free vtubing resources created by Faf. This website has software guides as well as links to free resources that get regularly updated. This is a great way to stay up to date on the current software for vtubers.
Finally, here are some free assets put together in a Twitter thread by user tadakimana. The thread contains links to posts for free background music, free tutorials, free stream overlays, and tons more!
---
If you believe in supporting small teams with an authentic message and want to support our content, consider creating a profile over at UnVale and checking out our Discord server!